Next Meeting: Wednesday, May 27 - 6:30 pm
Where: San Diego Botanic Garden, Encinitas
(Formerly Quail Botanical Gardens) Agenda & Directions.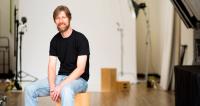 Speaker:
Rob Andrew
Topic:
Food Photography- Making them Hungry with Minimal Gear
More information about the program.
---
Member Share:
May's Topic: Neighborhood
What's in your neighborhood? Discover something within walking distance in your neighborhood and think about what attracts you to it. Is it the morning light giving it form or shading? The way the object casts shadows? Or the children laughing as they play in a nearby park! Seriously, go out about your neighborhood with your camera and find that special image!
Please submit up to 2 images. (Go to
Members Login
and submit your images there)
Before you submit images to the projectionist please read these
Instructions
---
Upcoming NCPS Photo Shoots:
Cruisin' Grand Photo Shoot
Friday, June 19, 2015
For detailed information Click here