Next Meeting: Wednesday, January 22 - 6:30 pm
Where: San Diego Botanic Garden, Encinitas
(Formerly Quail Botanical Gardens) Agenda & Directions.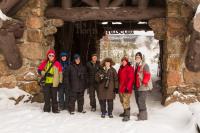 Speaker:
Sandy, Barbara, Lew, Andrew, Mike & Steve
Topic:
Yellowstone in Winter
More information about the program.
---
Member Share:
January's Topic: No Member Share
Our presenters will be using the entire session for their presentation so we will suspend Member Share for January.
Please submit up to 2 images. (Go to
Members Login
and submit your images there)
Before you submit images to the projectionist please read these
Instructions
---
Upcoming NCPS Photo Shoots:
Pelican Photo Shoot at La Jolla Cove
Sunday, January 05, 2014
For detailed information Click here