March 2013 Monthly Meeting
Featured Speaker: Guest panelists Robert Conrad & Lew Abulafia
Members' Critique for the San Diego County Fair
Program Description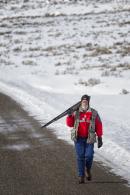 Its back! And just in time. Many of you have been asking for a member critique session with the purpose of giving everyone at NCPS the opportunity to receive constructive feedback on up to 2 images.

The idea is to help you get ready to enter the 2013 San Diego County Fair Exhibition of Photography.

This March we are lucky to have Robert Conrad and Lew Abulafia as our panelists who will offer comments or suggestions on how to improve your images to best prepare for the show.

Robert Conrad, who some of you have met, is a fairly recent member of NCPS, joining only about a year and a half ago. He is the yearbook editor and photography director at Valley Center High School.

Lew Abulafia is a long standing NCPS member and award winning nature photographer, who follows his passion traveling all over the world studying with master photographers honing his craft.

They will spend just a few minutes on each image commenting on how the photo might be improved upon.

Please submit your images for the March critique as follows:

1. Email the images to projectionist@nc-photo.org.
2. Images must be jpeg and no larger than 5 MB each.
3. The file names must start with your name or initials and number one or two (for example: cb1 & cb2), so we know which image you want seen for sure, in case we only have time to go over one for each person (not likely, but just in case…!).
4. Deadline - 24 hours before the meeting.

Entering the 2013 San Diego County Fair Exhibition of Photography:

The deadline for entering the competition is Friday, April 19, 2013 at 11:59 pm, PST.

Go to:
http://www.sdfair.com/index.php?fuseaction=exhibits.photo where you can join the mailing list, ask questions and find the competition information, entry instructions and more.

Best wishes for a successful show!
---