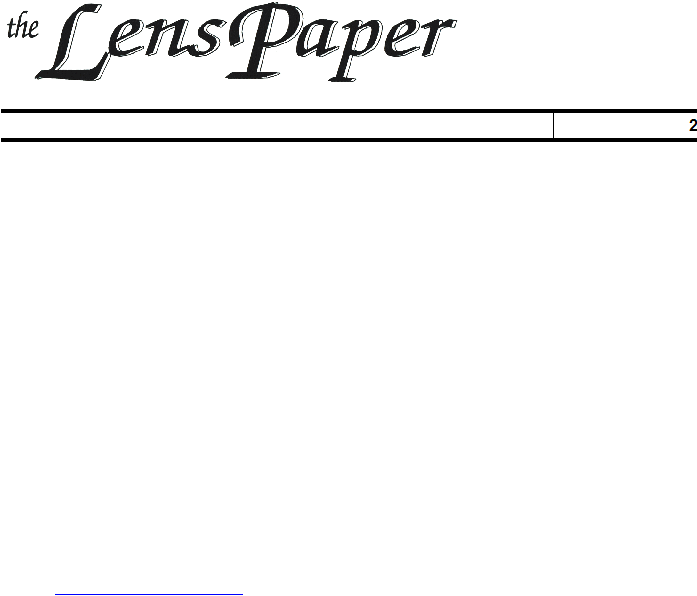 NORTH COUNTY PHOTOGRAPHIC SOCIETY
Wednesday, February 23, 2005
Quail Botanical Garden, Encinitas
Ecke Building Meeting Room
Enter Front Gate -

Exit Rear Gate
Front Gate is Locked at 7:00 p.m.
6:00 p.m. - Front Gate Opens
6:15 p.m. - Sign-in & Refreshments
6:30 p.m. - Announcements & Member Greeting
7:15 p.m. - Break & Refreshments
7:30 - 8:30 p.m. - Presentation
Donations:

First-time guests free/returning guests $3.00
FEBRUARY'S PROGRAM

by Barbara Royer
Our speaker for February will be Abe Ordover and his topic will be "Insights in Nature
Abe is the owner of the Ordover Gallery - Studio 172 at 444 South Cedros Avenue in Solana
Beach. He is a gallery owner who chooses to include the work of local photographers in his
exhibitions, something our society can truly appreciate.
It is always a pleasure to visit the Ordover Gallery – both at their Cedros Avenue address and
PRESIDENT'S CORNER

by Mike McMahon
If you attended our January meeting, you know that the NCPS is off to a great start in 2005. One
of our largest audiences in recent history (80+) enjoyed the Member Share (led by our new Vice
President, Barbara Swanson) and were delighted with Will Gullette's presentation, "Garden
Photography: How to Tell a Story".
And we are off to a fast start for our Photo Shoots. On January 29

th

, a group rode the Coaster to
Old Town for a fun event. Thanks to Carolyn Taylor for organizing this event. On February 12

th

,
Ed Stalder and Carrie Barton will lead a shoot to the Anza Borrego desert to photograph the
dazzling display of wildflowers. Thanks to Ed and Carrie for pulling this trip together so quickly in
order to take advantage of the early bloom this year. You can see photographs from both shoots